"World peace begins with inner peace" said Dalai Lama. Our school aims to instil in students, the ideas of global peace, harmony and compassion, and at the same time give them the courage to defend their identity and dignity. The school programs are designed to create opportunities in acquiring a better grasp of the nature of the universe and in developing an analytic mind to solve problems. Simple and natural transcendental meditation approach adopted in the school helps promote intercultural understanding, social cohesion and mutual respect among students coming from different backgrounds. The Vedas speak of the ways of attaining spirituality by establishing harmony with all beings. Incorporating the Vedic essence, all scholastic and non-scholastic activities are designed to support students to evolve into thinking, self-disciplined and responsible individuals. Warm, energetic and excellent teachers play a magnificent role. Parents and teachers work as a team to bring out the best in the children.
Ms.Anuradha Ramakrishnan
Principal
Maharishi Vidya Mandir –Kovilambakkam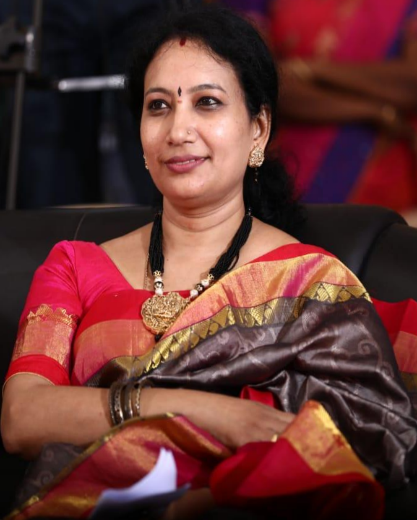 About the Principal
Mrs. Anuradha Ramakrishnan comes with a rich experience of 20 years in the field of education. With Science as her core subjects, her career spans over a considerable period in various capacities with many milestones to her credit.
After completing her B.Sc. (Botany) from Providence College, Coonoor (Bharathiar University) in 1996, she completed her Post Graduate Education Management from Alagappa University , Karikudi Later, she completed her Bachelors in Education (B.Ed.) from Madras University, Chennai and is also in Bachelors in Special Education (B.Ed., Special Education for Mentally Retarded ) s from Tamil Nadu Open University.
Born into the family of a Defence Officer, Mrs. Anuradha has imbibed love for the nation, respect for fellow beings, and empowering people around, very early in life. Growing up with all these virtues, it's not a surprise that she chose teaching as her profession to reach out to the society and contribute towards education which is meaningful. A staunch propagator of inclusive education, she has opened the doors to many children who are differently abled and is striving to bring them to the mainstream education.
As an educationist, she believes in empowering the facilitators and creating a lineage which would benefit the future of our country. A visionary by nature, she is in the process of mentoring and guiding not only in the school that she heads, but also in the places she goes as a pedagogue.